What matters most to online shoppers?
Oct 10, 2016
Here at wnDirect we know one thing for sure when it comes to international expansion and cross border trade… and that is that the value of local knowledge simply cannot be underestimated.
While other logistics providers have made 'logistics' their business, we have made 'international' our business and we pride ourselves on being aware of, and understanding, the various consumer trends and political/economic environments in the areas in which we operate.
But we wanted to do better than that, we wanted to know what matters most to online shoppers. So in November 2015, we conducted our own consumer research and surveyed over 5000 consumers in Australia, Germany, Italy, Spain, Japan and Russia who have bought clothing/apparel online to find out.
Our infographic below provides a snapshot of our findings: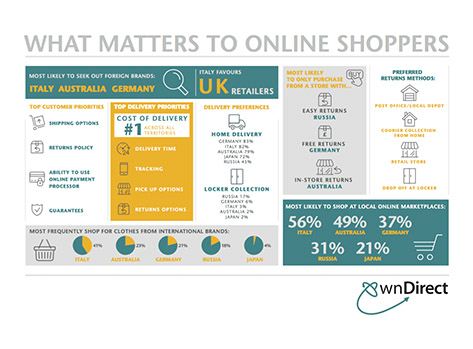 The responses we collated not only reveal the frequency with which customers from these territories buy from national and international websites, but also highlight several key factors which can influence their purchasing decisions, including shipping options, delivery method and returns. The findings of the research contrast the different priorities of consumers across these five territories when shopping for clothing online, and highlights their preferred delivery and returns options when purchasing from both national and international websites.
The research has provided us with invaluable insight to further expand our already vast knowledge about the regions in which we operate and therefore help our clients stay one step ahead with regards to their international growth plans.
Recent Posts